Leg Levelers b
24
Nut/washer combo welded to the bottom of each leg.
25
Bolt with lock nut added.
26
Here is how they will look.
27
Using hole saw to make hole for spacer - to prevent crushing of the tubing when installing horizontal brace.
28
Spacer welded in.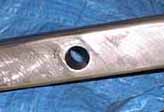 29
Weld ground down.

12/16/2001
Pictures fixed 01/11/2002